Innovations
Urological Associates' physicians are leading the way in cutting-edge medical procedures such as robotic surgery, endoscopic and laser surgery and minimally invasive treatment of BPH. We also employ genetic and genomic testing for diagnosis and treatment recommendations.
Innovative Technologies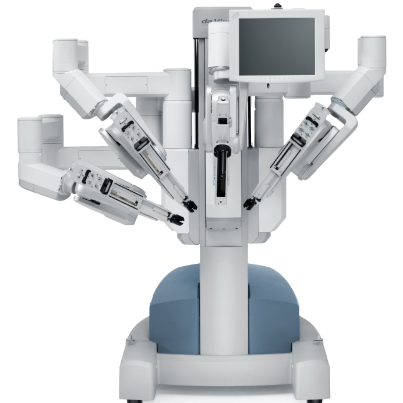 TECHNOLOGY
Da Vinci Robotic Surgery
The da Vinci Surgical System is a surgical robot that is a minimally invasive alternative to both open surgery and laparoscopy. Doctors Kresowik, Lightfoot, Bream and Berneking have been trained in robotics, and are experienced in the use of the da Vinci Surgical System. Urologists have been at the forefront in embracing robotic surgery and making it a standard tool in surgical intervention. We are proud that our experienced team has been part of this revolution.
Innovative Technologies
Urolift
The UroLift System is a revolutionary, minimally invasive approach to treating lower urinary tract symptoms due to an enlarged prostate. The procedure often allows men to discontinue medications and avoid major surgery. It is performed using implants that lift or hold the enlarged prostate tissue out of the way so it no longer blocks the urethra. Urological Associates has achieved the "Center of Excellence" designation for having extensive experience and training treating patients with the UroLift System, demonstrating a commitment to exemplary care. (For more information on the Urolift procedure, please go to a www.urolift.com)
Guidance UTI
Guidance UTI is a rapid molecular test that points the way to swift diagnosis and personalized therapy options for recurrent urinary tract infections (UTI's), prostatitis and more. Urological
Associates utilizes this test to identify more UTI-causing pathogens than traditional urine culture and determine the best antibiotic option.
For more information regarding Guidance UTI, go to https://www.pathnostics.com/patients/tests/guidance/
Kidney Stone Treatment
Kidney stone attacks are so painful that they can prevent you from working or doing the activities that you enjoy. We offer prompt evaluation to get you pain free and back to doing what you love. Our ambulatory surgery center, Spring Park Surgery Center, offers a complete array of kidney stone treatments including extracorporeal shock wave lithotripsy (ESWL) and laser lithotripsy. Spring Park Surgery Center is the only site in the Quad Cities region that has an onsite EWSL. This allows our surgeons the ability to treat your kidney stones with speed and precision.